Crusty Macaroni and Cheese
PaulaG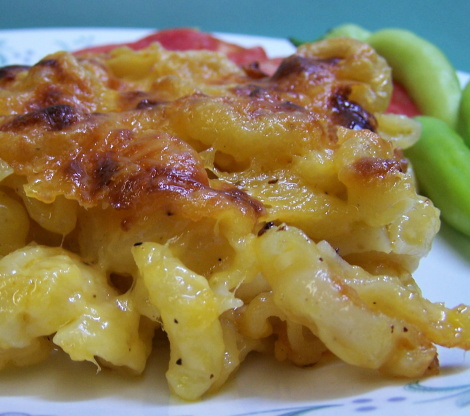 From the NY Times; total comfort food.

Really good mac and cheese. I made it for my nieces and they loved it! I used nonfat milk and all sharp cheddar cheese, and the only things I would change for next time is not to bake it the last 20 min. and to up the milk and cayenne. But I definitely loved it and will make it again.
Heat oven to 375 degrees Fahrenheit.
Use one tablespoon butter to thickly grease a 9-by-13-inch baking dish.
Combine grated cheeses and set aside two heaping cups for topping.
In a large bowl, toss together the cooked pasta, cheeses, cayenne (if using) and salt to taste. Place mixture in prepared pan and evenly pour milk over surface.
Sprinkle reserved cheese on top; dot with remaining butter.
Bake, uncovered, for 45 minutes.
Raise heat to 400 degrees Fahrenheit and bake 15 to 20 minutes more, until crusty on top and bottom.