Crusty Italian Garlic Bread
diner524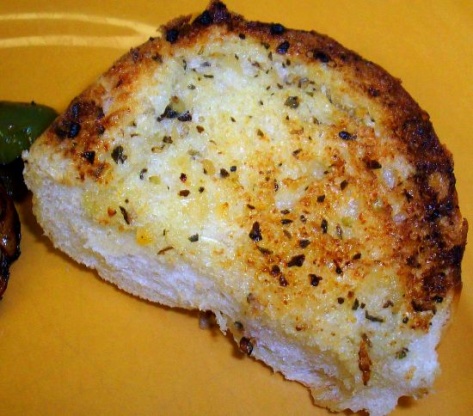 This two step process makes this crunchy garlic bread taste like perfection!! And the smell.... well, just TRY IT!
This a nice crunchy bread. Both my kids felt it was more of a herb bread, than garlic bread, as they overpowered the garlic. I followed the directions as written, except for 1/2 a loaf, as there was only 3 of us. I would definitely make again, but for our family taste, would cut back on the herbs and maybe add some cheese. Thanks for sharing SoozieQ. Made for photo tag.
1

loaf Italian bread (make sure it is a nice loaf, not your supermarket bakery loaf!) or 1 loaf French bread (make sure it is a nice loaf, not your supermarket bakery loaf!)

Garlic Butter Spread

3⁄4 cup butter (NOT MARGARINE!)

6

garlic cloves, chopped very finely
1⁄4 cup fresh parsley
1⁄2 teaspoon garlic powder

3

teaspoons basil
1⁄4 teaspoon oregano
In a medium size bowl add butter and allow butter to sit for a couple of hours to come to room temperature. You can also microwave until it is at room temperature as well, but do not allow butter to melt!
Preheat oven to 350 degrees.
Add the garlic and parsley to the butter and mix well.
Rub the basil and oregano between the palms of your hands to release the flavor and throw in the bowl. Mix content of the bowl well.
Remove about 1/3 of the Garlic Butter Spread to use later.
Cut your bread in half the long way. Spread about 2/3 of the Garlic Butter Spread onto the halves of the bread. Place each half directly on your oven rack and bake for 10 minutes.
Remove from oven and allow bread to cool until you can handle the loaves.
Turn oven to broil.
Slice bread into thick slices (about 2" thick). Place bread on cookie sheet and spread with the extra Garlic Butter Spread.
Place cookie sheet in oven and broil bread slices for 3 - 5 minutes, or until nicely browned to your taste. Make sure to watch VERY carefully so bread does not burn.
Place a large clean kitchen towel in a bread basket and wrap the towel over the bread until served but no more than a couple of minutes or bread could get soggy!
In my house, this serves about 3 or 4 because we eat this bread like CRAZY!