Crusty Grilled Peppercorn Steaks
Prep 15 mins
Cook 10 mins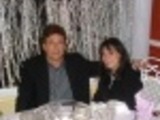 This is sort of like a Steak au Poivre prepared outdoors on the grill. Great for a special occasion cookout.
Directions
Pat steaks dry with paper towels. Rub both sides of each steak with garlic, then brush lightly with olive oil.
Line large baking sheet or tray with waxed paper. Spread thin layer of pepper on plate, lightly coat both sides of steak with pepper, and place on waxed paper. Repeat with remaining steaks and additional pepper.
Meanwhile, prepare charcoal for grilling (or heat broiler).
Just before grilling, lightly salt both sides of steaks. Grill steaks over hot fire or broil 4 inches from heat until browned and crusty on outside but still pink at center, about 5 minutes each side for medium-rare.
Transfer steaks to serving plates and serve at once.
Most Helpful
Yum! I used a rib eye steak since I had one in the freezer. Although I often rub meat and bread with a garlic clove, I always seem to be surprised how much flavor it adds. This was a simple tasty steak. Thanks for sharing. Made for What's on the Menu tag.

A great way to glorify an affordable steak. I agree the garlic rub is a nice touch. Thank you.

This is a very nice grilled steak recipe. I loved the garlic rub on the steaks. Grilled mine over a wonderful charcoal grill....delicious!