Crusty Grilled Ham and Cheese Sandwiches
Hey Jude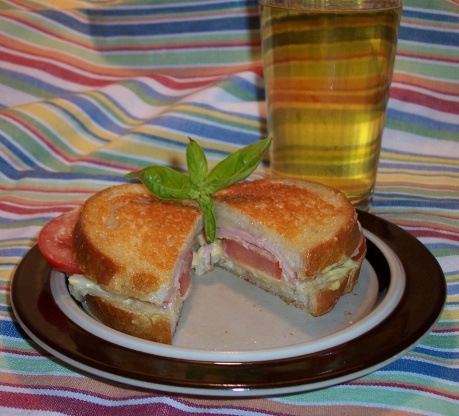 A delicious sandwich that you will make again and again. It is wonderful with Baked Potato Soup and other soups that don't have meat. These can be grilling while the soup is heating.

My husband and I enjoyed these wonderful sandwiches today for lunch. Very tasty and I loved the flavor of the Parmesan/butter mixture. I forgot to put the basil in but I did use it as a garnish. I constructed ours a little differently....I buttered the first slices of bread, laid them in a cold skillet, then assembled the rest of the sandwich right in the pan. Saved the hassle of trying to butter both sides of a fully constructed sandwich. Thanks Mimi, I will for sure make these again!
Mix together Parmesan cheese, soft butter, and garlic powder.
Build the sandwich as follows--on 4 slices of bread put 1 slice of cheese on each.
Then put 2 slices of ham on each.
Spread each ham slice with desired amount of mustard.
Top with tomato slices and fresh basil, if desired, or just sprinkle a tad of dry basil on it.
Cover with remaining slices of cheese and second slice of bread.
Very carefully spread the butter, Parmesan cheese, and garlic powder mixture on both sides of the sandwich.
Place on a griddle and cook over medium heat for 4-5 minutes or until golden brown and cheese is melted.
Cut in half and serve.