Thorsten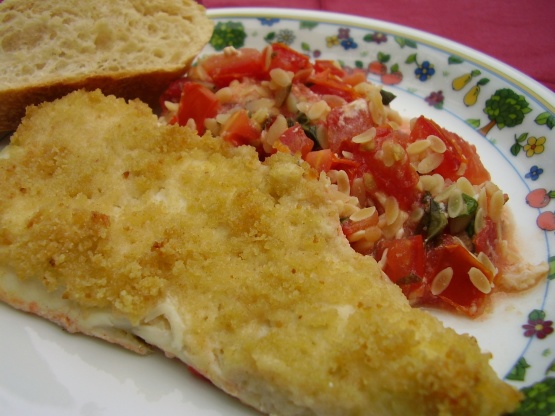 A delight in many ways: very easy to make - a put all together and bake recipe. Tasty combination of fish, tomatoes and orzo pasta. And it can easily be adopted to your needs. It presents the white, firm and delicious catfish in a Mediterranean style.
Preheat oven (375 F, 200 C).
Cut tomatoes into small pieces. Place in an oven-proofed casserole.
Add orzo pasta, sugar, chopped herb leaves, water and salt to taste. Mix well.
Put fish filet on this bed of tomatoes and orzo pasta. Drizzle the lime juice over fishfilets and mixture. Salt the fish filet to taste.
Mix breadcrumbs, parmesan and olive oil in small bowl. Sprinkle this mixture over the fish filets.
Put into oven and bake for 20 minutes until cooked and crust is lightly brown.
Take out and serve with green salad.
NOTE: You can replace the catfish filet by other fresh or frozen fish filet. Choose the fish you like best.
NOTE: The orzo pasta is not pre-cooked in this recipe. I like it that way, because the pasta will remain more "al dente".