This is my version of the delicious potatoes we get at one of our local restaurants. I do like these crunchy skins! This is traditional with meat loaf at our house.
Directions
Scrub potato and dry well.
Pierce potato 8-10 times with the sharp end of knife.
Mix dry seasonings in a small sack.
Rub potato with oil.
Shake with the seasonings in sack until evenly coated.
Bake for about an hour or until tender.
Do NOT wrap in foil.
Serves one.
Easy to add more potatoes!
P.S. Bake at 400 or 425 degrees to get those crunchy skins. Janice.
Reviews
Most Helpful
I have made these several times now, and I recommend baking at 425 for 1 hour. I do use rather large russet or Idaho potatoes. The skins are crisp and tasty, and no one leaves a bit of the potato uneaten! I have been told by a dinner guest that this was the best potato he had ever had! You can't do better than that. Thanks for sharing this.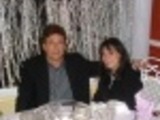 These were excellent! I baked for exactly one hour at 425 and they came out perfect! I turned the potatoes after 30 minutes to make sure the bottom didn't burn. This replaces our old way of fixing potatoes! Thanks for posting!
Wonderful potatoes! Mine did take quite a bit longer to cook, as my husband got the potatoes from costco that are the size of footballs... (hike!) I LOVE the crisp, spicy skins on these. I added some onion powder and didn't really measure the other spices. While even this wonderful recipe didn't get my husband to eat the skin on his baked potato this is the way I'll be cooking these babies from now on!