Gruenes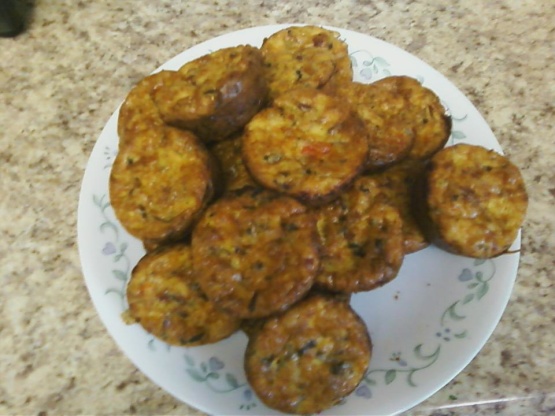 I got this recipe from a friend of mine and they are delicious!!! I had never had quiche before and we loved these. They are great for appetizers or even for a meal. I hope you enjoy them as much as we do!!!
8

eggs

236.59

ml heavy cream

118.29

ml pecorino romano cheese (you can also use Parmesan, Asiago, or Feta make sure it is grated)

473.18

ml shredded cheddar cheese (you can also use Mexican blend)

1.23

ml garlic salt

1.23

ml pepper (coarse ground)

2.46

ml italian seasoning

1

small red onion (chopped)

118.29

ml asparagus (chopped)

236.59

ml bell pepper (chopped, I use 1/3 cup yellow, 1/3 cup orange & either 1/3 cup red or green)

236.59

ml fresh mushrooms (diced)

473.18

ml fresh spinach (chopped, you can also use frozen)

453.59

g bacon
Preheat oven to 375 degrees.
Spray muffin tins w/ cooking spray.
Fry up the bacon (cooked crispy & crumbled). You can use the bacon grease to sautee the vegetables.
Sautee onion and peppers, then add asparagus, then mushrooms and last of all the spinach. All must be soft, but not overdone.
Beat eggs until fluffy and add the cream, garlic salt, pepper and Italian seasonings.
Add cheese and bacon; mix well with the eggs.
Add the sauteed vegges and mix well.
Pour into muffin tins (3/4 full or so).
Bake for 25-30 minutes, but do not over cook.