Derf2440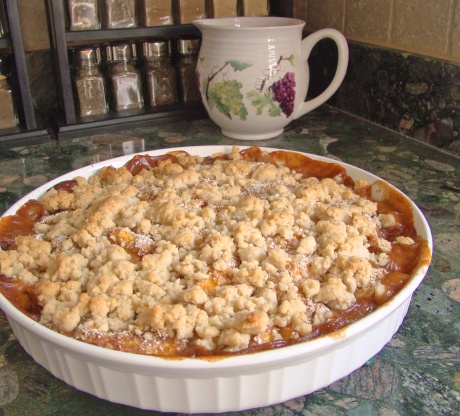 I personally don't like pie crust. I want the fruit, not the crust (and fat and calories). This has less fat but still gives you the satisfaction of a crust. I also eyeball filling ingredients so they are guesstimates.

I didn't read the other reviews until after I made this. I just added the omitted sugar in the topping to taste and it came out great. I used brown sugar for the filling and white for the topping and some local butter...Yum! My husband hates pies but loved this. He normally can't stand pie because of the crust so this was perfect. Thanks Holly!
Preheat oven to 400°F.
To make filling: Mix the sugar and the cornstarch and spices, add to the peaches and coat well. Place in baking dish. A 9-incj Pyrex pie dish works for me.
To make strudel: Melt butter in a large bowl. Add sugar, flour, and 1/3 cup oat bran. Mix well until combined and crumbly. (you may want to taste test :) it's yummy.).
Sprinkle 1/4 cup plain oat bran on top of peaches, then the strudel.
Bake at 400°F for 20 min, then reduce to 350 and bake until it's done (the outside will be bubbly and the center will be crusty and golden brown).