crustless crabmeat quiche
chia2160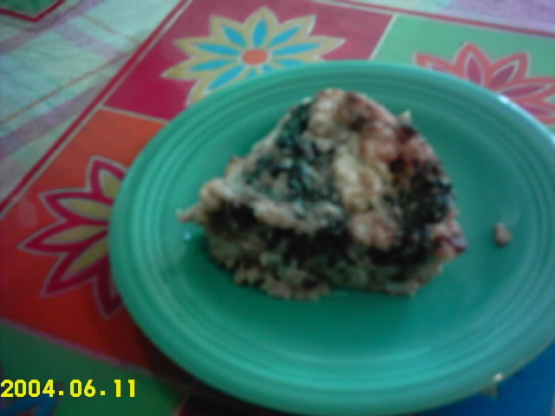 did someone say brunch? i got this in my email, looks great! 6/04 -i tried it geema's way with spinach- and alot of cajun seasoning, as the photo shows :}

Top Review by Geema
Who needs crust? We really enjoyed this crustless quiche. It baked up all puffy, looking and tasting like a cross between a quiche and a souffle. It was fairly bland, even with the hot sauce, but the crabmeat flavor was nicely prominent. I substituted spinach for the endive and it was perfect. We don't eat much cheese, but I'll bet it would be a wonderful addition to this simple yet delicious recipe. It's in my cookbook to stay, Chia.
in a large skillet, melt butter over high heat.
Add endive, with salt and pepper to taste, and sauté for 4 minutes.
Remove from pan and chill.
Preheat oven to 450° F.
Butter a 9-inch pie plate or quiche pan without a removable bottom.
Remove all bits of shell and cartilage and place crabmeat into the bottom of the pie plate.
Add the endive.
In a mixing bowl, beat eggs, flour, milk and a pinch of salt until well combined.
Pour over the crabmeat and endive and bake for 35 minutes.
Serve hot or warm.