Crustless Broccoli and Cottage Cheese Pie
Jujubegirl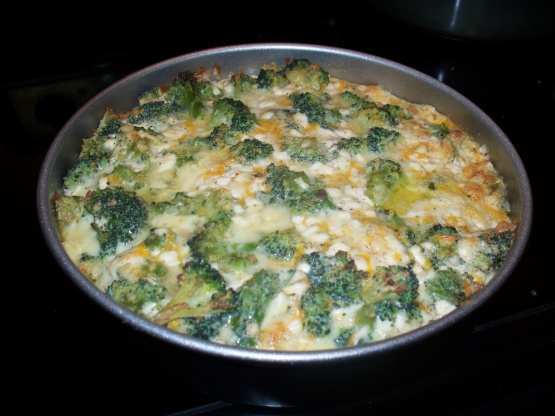 My second entry into the broccoli quiche category...this one is from Vegetarian Pleasures. Breadcrumbs in recipes always confuse me, I'm not sure what I'm being asked for. In this one, you want to make a slice or two of toast, let it (them) cool, and give a buzz in the food processer. This can be made up to 8 hours in advance-cover and chill the crust and filling separtely. Have not done that, so I could only guess how you might need to adjust the baking time; maybe another 15 minutes? I don't know why it's called crustless, it has a crust, just a thin one. Anyway, it's yummy. I've had no problem using lowfat/non-fat milk and cottage cheese. I never use the cayenne pepper, because Mr. B. does not like even a touch of heat, so I don't know how that tastes in there. Hope you enjoy!

Top Review by Bergy
Very tasty recipe - Will make again! I used raw broccoli, lite Havarti cheese no butter at the end and added 3/.4 tsp of cayenne plus Hot chili sauce when serving. I placed the broccoli on top of the crumb mixture in the pie plate along with the cubed cheese, cayenne & basil - Set it aside, mixed the egg, milk & cottage cheese, kept it in the fridge until bake time The bake time was perfect 40 minutes then added the chili sauce on top and enjoyed my dinner. Thanks for posting this delish recipe
Preheat oven to 350 degrees.
Generously butter 9 inch pie pan or quiche pan.
Mix the parmesan cheese and bread crumbs together and pat on the bottom and sides of the dish-this will form the crust.
Mix the cottage cheese, milk, Monterey Jack and eggs together well, then stir in the remaining ingredients (except the butter). Pour into the pie crust and smooth over the top, then dot with butter.
Bake for 40 minutes, or until a knife inserted into the center comes out almost clean. Serve immediately.