Crustless Broccoli and Cheese Quiche
Redsie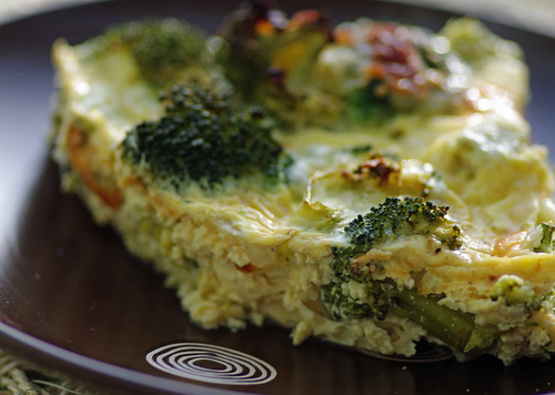 Weight Watchers: 1 point per serving

This was good, but I did find it a bit watery and on the bland side, even after having a heavy hand on the cheeses. Despite being watery, it still stayed together nicely and make a Nice healthy lunch!
Preheat oven to 350°.
Heat oil in a large nonstick skillet over medium-high heat. Add onion and garlic; sauté 1 1/2 minutes. Add broccoli; sauté 1 minute.
Spread broccoli mixture into a 9-inch pie plate coated with cooking spray.
Combine milk, cheese, parsley, mustard, salt, pepper, nutmeg, eggs whites and eggs in a large bowl. Pour mixture over broccoli mixture; sprinkle with Parmesan.
Bake at 350° for 40 minutes or until top is golden and a knife inserted in center comes out clean; let stand 5 minutes before slicing.