Derf2440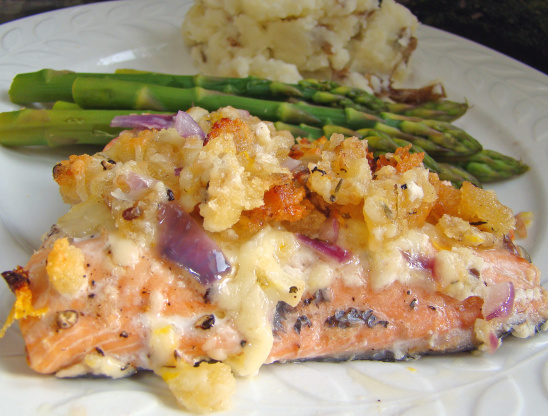 I discovered this recipe on the Betty Crocker web-site and with a few changes have found an impressive way to serve salmon. Great for a busy night schedule. We like to serve this with a nice ceasar salad and baked potato.
Heat oven to 375º.
Spray shallow baking pan with cooking spray.
Rinse and pat salmon dry with paper towel.
Place salmon in pan, brush both sides with 2 tablespoon butter.
Sprinkle with salt.
Mix bread crumbs, cheese, onions, lemon peel and thyme in small bowl with 1 tablespoon butter.
Press bread crumb mixture evenly on salmon top.
Flip and repeat ending with skin side down in pan.
Bake uncovered 18 minutes.
Serve immediately.