Brenda.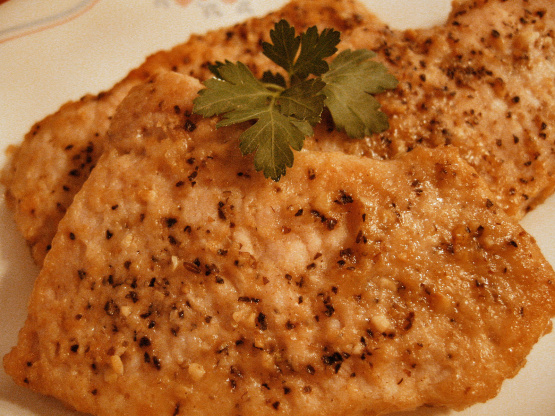 I adapted this recipe from one a friend's Mother gave me over 25 years ago. Since I am such a recipe fiend I have tried many different and delicious pork chop recipes, but this is the one my family always loves and asks for. And it is so simple to make.

Wow, these were great. I even forgot to put on the season salt until 35 minutes into baking (I added it then) and these were great! Thanks!
6 -8

pork chops (I use 1-inch thick boneless center cut)

2 -3

cups milk
garlic salt (to taste)

16

ounces keebler's Club crackers (other crackers could be used, but the results will NOT be the same)
Put pork chops in a shallow dish or zip-loc bag.
Add enough milk to cover chops.
Soak pork chops in the milk several hours or overnight in the refrigerator, turning if necessary.
Crush the club crackers into coarse crumbs.(I place them in a zip-loc bag and crush them with a rolling pin.).
Preheat oven to 325 degrees Fahrenheit.
Remove pork chops from milk.
Season VERY well with garlic salt (I often use Morton Nature's Seasons in place of the garlic salt).
Dredge seasoned chops with the cracker crumbs, making sure they are well coated with crumbs.
Place the coated crumbs on a cookie sheet.(I use an ungreased one and never have a problem with sticking. You can spray it lightly with PAM if you prefer.).
Bake for 1 hour in preheated 325 degree Fahrenheit oven.
Cooking time includes soaking overnight.
Slight variation: Sometimes I will season with Morton's Nature's Seasons instead of the garlic salt.
***I have tried this with other crackers, it is okay, but just not quite as good***.