Crunchy Vanilla-almond French Toast
PaulaG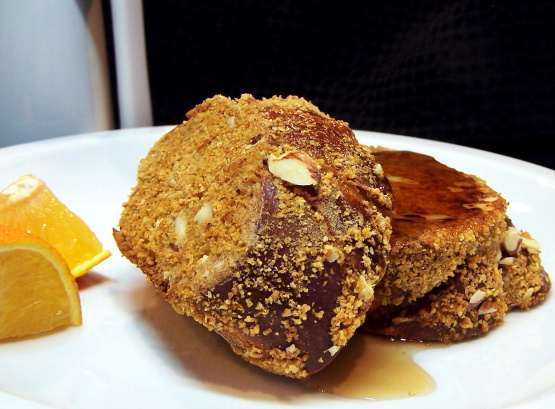 i haven't made this yet,i saw it on 30 minute meals and it looked really good. she also topped it with fresh fruit and and orange liqueur i've left that out ot the recipe but you can try it if you like.

Didn't have corn flakes so used all almonds. Soooo good. Served with a blueberry-almond butter.
Pre heat oven to 350.
In a shallow dish, beat together with a wire whisk: eggs, half-and-half, vanilla, salt, nutmeg, cinnamon.
In a second shallow dish combine flakes and nuts.
Add 2 tablespoons butter to warm skillet.
Place a cookie sheet lined with foil (for easy clean-up) near the stove.
Coat 4 to 6 slices of bread in egg, depending on the size of your skillet, then coat bread in cornflakes and nuts.
Cook slices 2 minutes on each side and transfer toast to cookie sheet.
Repeat with remaining slices and transfer toast to oven.
Bake 10 minutes.