teresas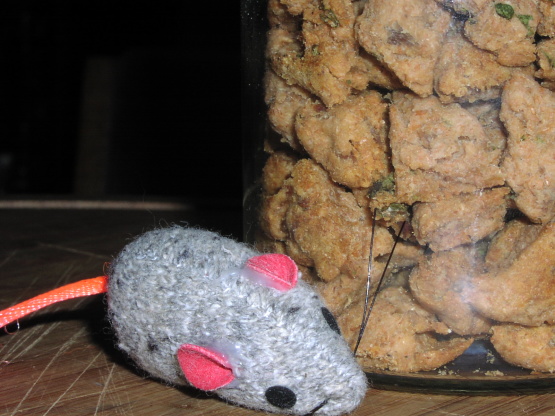 These little cat cookies are the perfect treat for your feline friend - easy and inexpensive to whip up, and probably much healthier and lower in salt than commercial pet treats. My kitty loves them! They are the purrrfect way to show your cat you love him/her this Christmas :)

Top Review by 912811
Very easy... I also used the food processor after reading KittyZ's comment. Much meowing ensued as I mixed the dough, so I had to let my cat lick my fingers after I rolled up the dough into the little treats.. and my dog helped too. My cat just didn't understand why they had to go in the oven, when they tasted perfectly fine unbaked. ;) Thanks!
Preheat oven to 180°C.
Mix tuna, rye and parsley together well, breaking up tuna pieces so they are soft and mushy.
Add water gradually, as is needed to make a firm dough that is easy to mould into a small shape.
Roll a teaspoon-sized amount of the dough between your palms, creating a small round ball. Flatten the ball so it becomes disc-shaped.
Repeat process until all mixture is used, placing each biscuit disc onto a lightly greased oven tray.
Bake in your 180°C oven for 20 minutes, or until golden brown.
Turn oven off, though leave tray in until oven has completely cooled. (This will help to dry out the biscuits further, and therefore help the treats keep for longer).
When biscuits have cooled completely, they are ready to serve. Handy as an occasional treat, and/or an addition to your pet's everyday dry food.
Store treats in an air-tight container in the pantry.