Redsie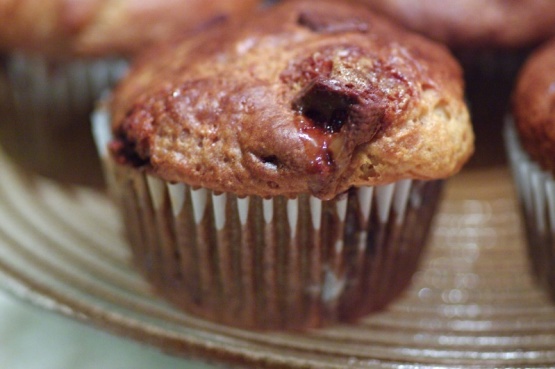 From Better Homes and Garden. They are soooo good!! Used low-fat milk and low-fat sour cream and they turned out delicious! Also baked them at 350 for about 25 minutes!

The three of us (my little family) gave this a thumbs-up which is a rarity in this house. My GD thought she was getting away with murder having a candy-coated muffin before going to school and since they're not overly sweet, it's what I liked best about this recipe. I made eleven muffins but haven't used paper cups since I converted over to Kitten's recipe#78579, even the melted toffee didn't dare stick to the pans. Made for Photo Tag.
Preheat oven to 400°F.
Grease ten 2-1/2-inch muffin cups or line with paper bake cups; set aside.
In a medium bowl, stir together flour, brown sugar, baking powder, baking soda, and salt.
Make a well in the center of flour mixture.
In another medium bowl, combine egg, milk, sour cream, melted butter, and vanilla.
Add all at once to the flour mixture.
Stir just until moistened (batter should be lumpy).
Gently fold two-thirds of the chopped toffee into batter.
Spoon batter into prepared muffin cups, dividing batter evenly.
Sprinkle tops with remaining chopped toffee.
Bake about 20 minutes or until muffin tops are golden brown and a wooden toothpick inserted in centers comes out clean.
Cool in muffin cups on a wire rack for 5 minutes.
Remove from muffin cups. Serve warm.
Make-Ahead Tip: Prepare and bake the muffins as directed; cool completely. Place in an airtight container and freeze for up to 3 months. Thaw muffins, covered, at room temperature. Wrap the muffins in foil and bake in a 300 degree F oven about 15 minutes or until heated through.