Pamela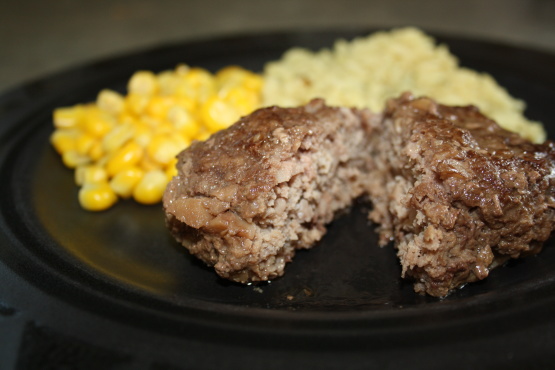 This is an adopted recipe.

We just finished a very early dinner and the aroma of that dinner still lingers throughout the house. Pamela, this was a big hit! My students (all guys) had finished there finals today and plan a round of pre-holiday parties, thus the early dinner. The only change was I used ground turkey for my meat. I doubled the marinade because I planned to use it for the rice and was I glad I did!. First, I baked the patties until they were a bit crusty around the edges, basting several times. Second, I made steamed white rice that I added about two heaping tbls. of marinade to the water. With the rest of the marinade, I heated it up with additional orange juice and one ice cube sized roasted garlic, which added the the creaminess of the sauce. This went over the rice. I also served Apricot-Glazed Green Beans (a zaar recipe) with it. This was ++++five star recipe. My whole house thanks you!
Mix the meat and water chestnuts together.
Shape the mixture into 6 patties, each about 3/4-inch thick.
Place the patties in an ungreased baking dish 10 X 6 X 1 3/4-inches.
Mix the remaining ingredients together and pour over the patties.
Cover and refrigerate for at least 3 hours, turning the patties once.
Remove the patties from the marinade.
Broil or grill the patties 4-inches from the heat, turning once, until the desired doneness is reached, about 10 to 15 minutes.
Brush frequently with the leftover marinade.