Crunchy Scalloped Potatoes With Thyme
JustJanS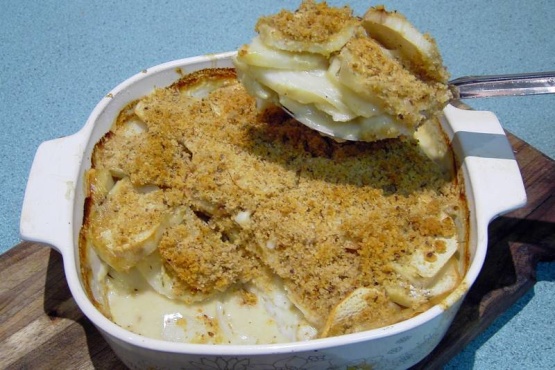 Scalloped potatoes with something different... a crunchy topping and mild thyme flavor. Found this on TexasCooking Online. Delicious!

This is, basically, the way my mother (1902 - 1985) taught me to make scalloped potatoes ---- with a couple of corrections. After sprinkling a layer of potatoes with the flour mixture, it should be dotted with butter so it cooks into a sauce ---- and the onions should definitely be sauteed. Finally, a nice sauce will develop if you pour just milk over the casserole ---- half cream and half milk would be even better. I think the stock is at odds with the rest of the recipe ---- if a chicken flavor is desireable, why not dissolve some bouillon cubes in the milk/cream?
Preheat oven to 400°F.
Lightly grease a 9x13 inch baking dish.
In a small pan, melt butter.
Stir in the bread crumbs and saute briefly.
Set aside.
In a small bowl, combine the flour, thyme, salt and pepper.
Place 1/3 of the potatoes into the baking dish.
Sprinkle 1/3 of the flour mixture evenly over the potatoes and top with 1/2 of onions (if desired).
Repeat.
Top with remaining third of potatoes and flour mixture.
Mix together Chicken stock, whipping cream and mustard.
Pour mixture over the potatoes.
Bake for 1 hour at 400°F.
Turn oven down to 350°F.
Lightly spread the bread crumb mixture over the top and bake for an additional 30 minutes.