Crunchy Red and Green Coleslaw Wth Candied Walnuts
Rita1652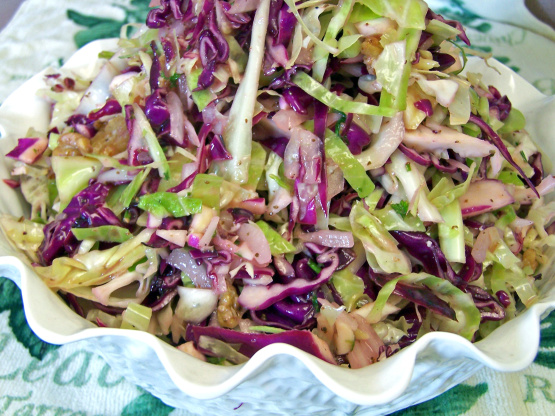 I use my Candied Walnuts Candied Walnuts which gives this salad an extra crunchy sweetness Replacing the cinnamon with nutmeg.A food processor used to slice the cabbage and onions makes this a very quick salad to make.

Gosh, this is a wonderful coleslaw Rita! I did omit the celery seeds, and I used Dijon mustard, I also added in 1/2 teaspoon garlic powder into the dressing, I did not have any candied walnuts so I used toasted, also I used green onions in place of sweet onion, as I have tons in my garden to use up, thanks for sharing this great recipe hon!...Kitten:)
Dressing:.
Whisk all dressing ingredients together in a large bowl.
Add onion and cabbages to dressing tossing to coat. Chill one hour to overnight.
Candied Walnuts:.
In a heavy bottom pan heat to medium high heat.
Place nuts and butter, when butter is melted and nuts are coated with the butter sprinkle sugar and nutmeg over nuts stirring till carmelized. Toss in salad.