Prep 15 mins
Cook 45 mins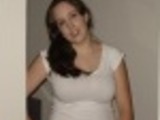 This is really good. Very easy to make. I think you will love it!
1⁄3 cup corn flake crumbs
1⁄4 cup reduced-fat parmesan cheese
1 (1 ounce) packet hidden valley ranch dressing mix
Directions
Preheat oven to 350°F.
Spray a 9x13 inch pan with nonstick cooking spray.
Combine corn flake crumbs, cheese and dressing mix.
Spray chicken with butter flavored Pam, then roll in corn flake mixture to coat.
Place chicken in prepared pan and bake uncovered for 45 minutes or until done.
For WW - this is 3 points per serving.
Most Helpful
Delicious!!! I loved the crunchy coating of the crumbs. This is super easy to put together and tastes fantastic. I have to admit, I did use real butter and not the butter flavored PAM.
I liked this a lot. It was very easy, and the chicken was so juicy (fully cooked at 35 minutes). It was a little "ranchy" for me though, so I think next time I'll use a little more cornflake crumbs and a little less ranch. Thank you for posting!

Just as Jen said, this chicken recipe is really good and easy, too. Will definitely become a regular on our dinner menu. Thanks!