Crunchy Potato Cheese Balls
CoffeeB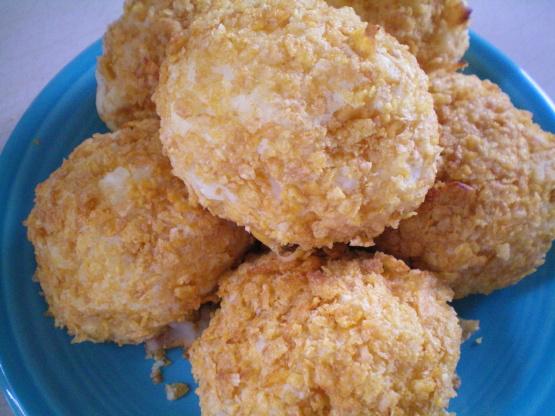 I haven't tried this one yet, but it's a local favorite that was published in our town newspaper. Sounds wonderful!

Hello DuChick; I reduced the recipe to make only 1/4 of the recipe. The potato balls turned out absolutely great. The cheese melted just perfectly. Served them with sour cream and also some ketchup. I added some granulated garlic powder and some dried dill weed. I did add more melted butter to sprinkle over the potato balls before baking in the oven. Thank you for posting this recipe. The same recipe came out in our local paper on June 17, 2008. Regards, "Uncle Bill"
Mash potatoes with salt, milk, onion salt and 1/4 cup butter.
Chill until firm.
Cut cheese into 1 inch cubes.
Shape mashed potatoes around the cheese cubes into 2 1/2" balls.
Roll in corn flake crumbs.
Brush with remaining /14 cup melted butter and place on slightly-greased cookie sheets.
Bake 20 minutes at 350* or until heated through.