Crunchy Potato Appetizer Balls
Prep 30 mins
Cook 45 mins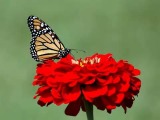 A Pampered Chef appetizer recipe.
Make and share this Crunchy Potato Appetizer Balls recipe from Food.com.
Directions
Preheat oven to 350 degrees. Combine the potatoes, ham, cheese, salad dressing, eggs, onion, mustard, salt and pepper in a large mixing bowl and mix well. Shape into 1 inch balls. Roll in the cornflake crumbs. Arrange the balls on a greased baking sheet. Bake for 30 minutes or until brown.
Reviews
Most Helpful
These are delicious! I knew I'd love them because of the ingredients and so did my family. They gobbled them down! I will make these again. Thanks for sharing.
I made these last Saturday night for the Chicago Black Hawks play-off game... we invited our neighbors over for a "Ball" party! (even though its hockey). We served 7 different types of hand held 'ball' appetizers (neighbors brought some balls, also). I made 4 types... these being one of them. These were delicious! Everyone at our party loved them. I did not have to add the onion because my mashed potatoes already had them. I did use the calculater above the ingredient list to make it for 7 servings. It worked perfectly. Thank you for posting your recipe. (Made for PRMR)