Nif_H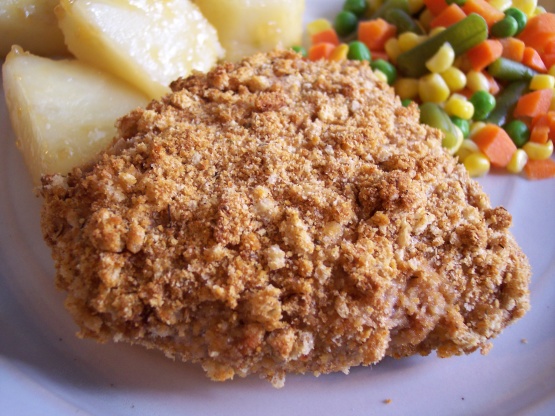 This recipe is from America's Test Kitchen, Family Cookbook. I think that these would be even better with some Dijon mustard mixed in with the mayonnaise.

Top Review by Nif_H
We all really liked these! Moist on the inside and a nice crunch on the outside. This made a lot of coating so I made 6 chops and still had some left! I would never have thought of using Melba toast but it made a great crust! I served these with Recipe #424017 and mixed veggies. Made for PRMR tag. Thanks KellyMac6! :)
Adjust the oven rack to the middle position and preheat the oven to 425 degrees Fahrenheit.
Place the Melba toasts, salt, garlic powder, onion powder, paprika, thyme, and sugar in a zip-top bag and seal.
Pound the toasts to coarse crumbs, leaving some the size of small pebbles.
Add 2 tablespoons mayonnaise to the bag and work it into the crumb mixture. Transfer to a large plate.
Working with one chop at a time, coat with 1 tablespoon mayonnaise using your fingers or the back of a spoon; coat thoroughly with Melba crumb mixture.
Press on the crumbs on the chop to make sure they adhere; lay the chop on a wire rack set over a rimmed baking sheet.
Bake the pork chops on the wire rack until the coating is golden brown and the center registers 135 degrees, approximately 16 to 22 minutes.
Transfer the chops to a clean plate and let rest until the pork reaches an internal temperature of 145 to 150 degrees (5 to 10 minutes).