Crunchy Peanut Butter Wraps
twissis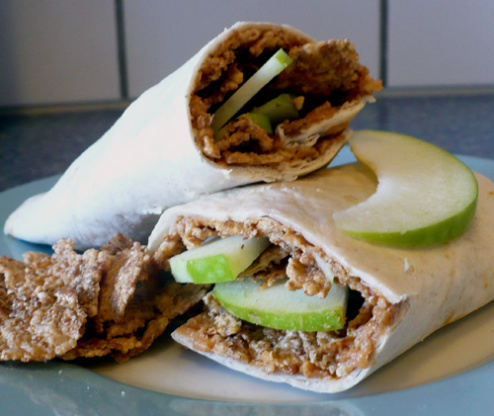 We made these last night for a quick snack and they were great. Loved the tartness of the apple with the crunch of the granola Cereal. The amounts of all the ingredients can be adjusted for personal preference.
Wow!!! What a wonderful combination of flavors. I made this for one serving and since we don't normally buy granola type cereal, I made my own using oats, cinnamon and almonds, using a online recipe, but dropped the coconut. For the apple, I used a granny smith which was a great flavor combination with the peanut butter and granola. I could also see using sliced bananas, yum!! Wish I had thought of this when my kids were older and in HS and running off with no breakfast and I could have handed them one of these roll ups!! Thanks for sharing the recipe. Made for PRMR Tag Game.
Spread peanut butter over each tortilla.
Warm in the microwave for 10-15 seconds(optional).
Sprinkle with chopped apple and granola.
Roll up tortillas and cut in half.
Enjoy.