Juenessa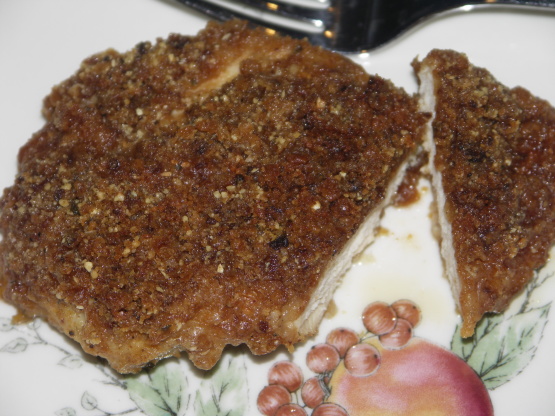 This recipe is very rich and flavorful. The coating makes the chicken moist and tender.

Everything Juenessa says about this chicken is true--moist, tender and flavorful. This is one of those foolproof recipes we all appreciate so much. Even the timing (60 min) was right on target. Will be making this one again.
Combine crushed onions, parmesan cheese, seasonings, and bread crumbs.
Combine egg and milk in different bowl.
Dip chicken in egg/milk mixture.
Coat chicken with parmesan cheese mixture.
Place in baking dish.
Spread any additional parmesan cheese mixture on top of chicken.
Pour melted butter over chicken.
Bake at 350 degrees for 45-55 minutes or until golden brown and chicken juices run clear.