Crunchy Oven Fried Tilapia
loof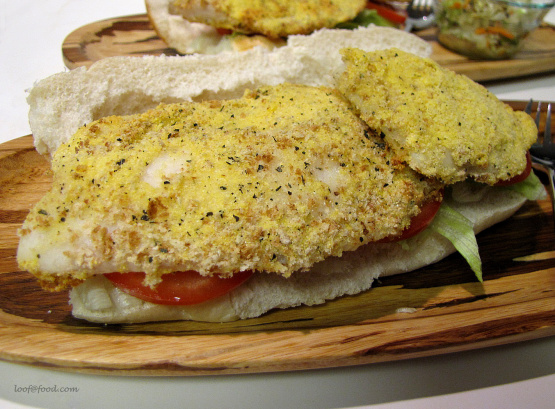 This recipe came from the back of a bag of frozen tilapia. It is a good recipe for WW users.
I don't really like fish all that much, except the really bad for you kind at Long John Silvers, but I LOVED this. I added more egg whites and bread crumbs to my mixture to make the coating easier, but otherwise followed the recipe. My family loved this and it's a healthy easy way to make fish! Next time, I will try panko!
Preheat oven to 450 degrees.
Sift or stir flour, salt and pepper together in a shallow dish, and set aside. In a bowl, beat egg whites until white and frothy. In another bowl, combine bread crumbs with cornmeal and basil.
To bread fillets, dip first into flour, shaking off any excess, then into egg whites, then into bread crumb mixture.
Spray a shallow baking dish with non-stick cooking spray. Lay fillets flat in the dish, tucking under any thinner ends or edges for more even cooking.
Bake for 10-15 minutes, or until fish flakes easily with fork.