Bergy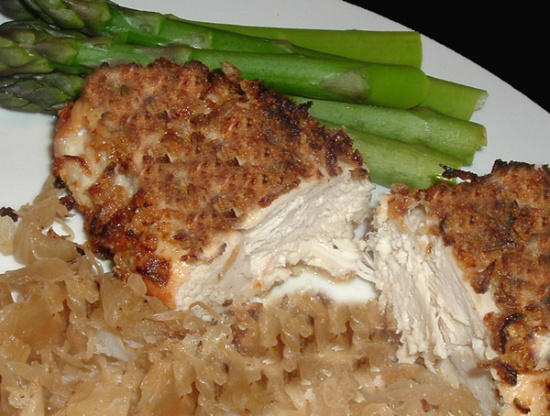 Can it get any easier? This chicken is so tender and moist! From a French's ad in Family Circle Magazine. Makes a tasty meal when there is little time to cook. Also would make a good sandwich. ***NOTES*** 3/1/2009, I just saw this recipe printed in a new magazine and they now have you add one tablespoon of flour to the crushed French Fried onions. It helps the pieces adhere to the chicken better. 10/19/2010, one of the reviewers offered a new tip: substitute a flavored mustard for the egg if you enjoy the tanginess of mustard. Great idea!

This is a very easy, quick, and yummy way to cook up chicken!! I found this in a French's ad and followed the recipe according to their "zesty" tip which was to use 1/4 cup of any flavored mustard instead of the egg (I used Dijon mustard). My husband and I both thought the mustard added to the flavor of the chicken, but if you don't at least sort of like mustard I would stick with the version with the egg :) Great recipe!!
1 1⁄3 cups French's French fried onions or 1 1⁄3 cups French's cheddar french fried onions

1

egg, beaten
Crush French Fried Onions in a plastic bag.
Dip chicken into egg, then coat in onion crumbs.
Bake 20 minutes at 400 degrees until cooked through.