Crunchy, Low-Fat Summer Chicken Salad
Derf2440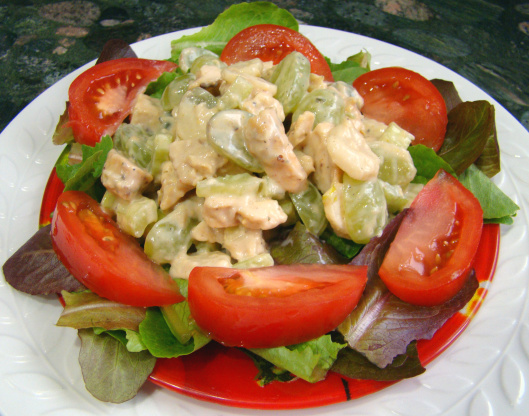 This salad makes a nice, light lunch when served over top of lettuce greens. It also makes a nice salad filling for pita bread. One of my summer favorites! Prep and cooking times do not include time to cook chicken.

I attended a luncheon with Lisa Welchel the other day in the little town of San Saba, Tx. A chicken salad was served, a very different chicken salad. It was so yummy and I came home to try and find a recipe that I thought had all the elements that the one at the luncheon contained. This is the recipe that I came across. I did not have any lemon juice or celery, so I used lemon pepper without salt and left out the celery. Next time I will have the celery and lemon juice on hand! I also used a smoked chicken breast that my hubby had smoked for me last night, and so I mixed all the ingredients together first and added to my diced chicken breast until I thought it was a good consistency and so I had left over mixture. I used this to make pea salad-YUMMY!! This is a great change to the normal chicken salad that I make, and even the regular fuit and nut chicken salald. My 2 year old will not eat chicken, she only eats Panda Express orange chicken(i know, very strange child that doesn't like chicken nuggets!) and she LOVED this! Great Recipe!
Mix together chicken, water chestnuts, and celery.
Blend together sour cream, mayonnaise, curry powder, soy sauce, lemon juice, garlic powder, salt, and pepper.
Pour over chicken mixture and mix to combine.
Stir in grapes.
Chill at least 2 hours before serving.