TheCook.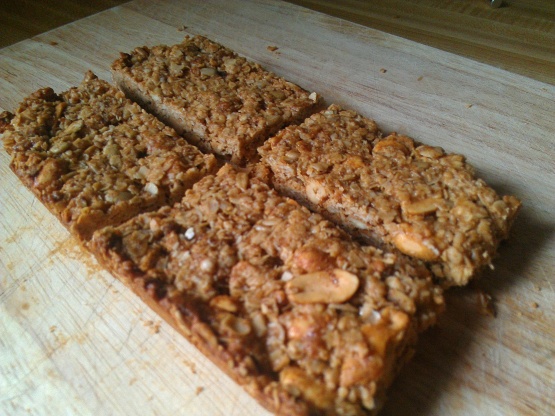 I love those nature's valley crunchy granola bars and I also like those sweet and salty granola bars as well as fruit granola bars! But notice how you can't seem to get everything you want in a granola bar without sacrificing the healthy aspects. Anyhow, I adapted this recipe from one off a blog I stumbled across (http://katescreativekitchen.blogspot.com/2009/03/sweet-and-salty-granola-bars.html--she has other good recipes to offer also!).

These are so good I'm having to restrain myself from eating the whole pan!! They actually got crunchy, which surprised me and made me really happy! We used walnuts, almonds and peanuts and tossed them together with the oats and toasted them all together. I melted the butter, honey and peanut butter together and added it last. One thing that might make yours better than mine is to use a small cookie sheet so the bars will be at least a 1/4" thick or more. Thanks for the recipe, it's incredible!!
3

cups oats, toasted (I use the quick-cooking kind)

1

cup nuts (almonds, peanuts, walnuts, pecans, whatever!)

1

cup dried fruit (raisins, dried cranberries, etc. or chocolate chips!)
1⁄2 cup pretzel
1⁄2 cup brown sugar
1⁄3 cup peanut butter, melted
1⁄3 cup butter, melted
1⁄3 cup honey

1

egg

1

teaspoon cinnamon
1⁄2 teaspoon vanilla
1⁄2 teaspoon salt
To toast oats spread them on an ungreased cookie sheet and bake at 350F for 10-15 minutes or until just golden.
Mix all ingredients.
Firmly press into a cookie sheet or jellyroll pan lined with grease parchment paper.
Bake at 350F for 15-20 minutes.
Cool completely and cut.