Hadice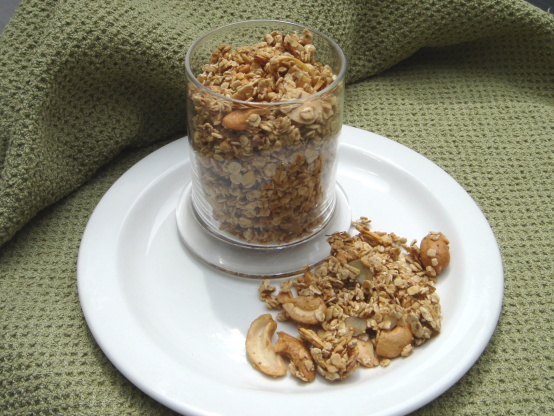 This granola makes a GREAT, filling snack. Good dry or with milk. It is very addictive, but it's good for you, so enjoy!

Delicious; I used 1/2 cup of orange juice instead of water. I just made a "ginger spice" version to make it a little seasonal... so delicious: with the nuts, I added 2 tsp cinnamon, 1 tsp ground cardamom, 1 tsp nutmeg, 1 tsp ground ginger and after cooling completely, 1 cup dried sweetened cranberries.
Heat oven to 275 degrees F.
Line 2 cookie sheets with parchment paper.
Combine brown sugar and water in a 4 cup microwave proof cup.
Microwave on high 5 minutes until sugar is completely dissolved.
Remove from microwave and stir in vanilla and salt.
In large mixing bowl, mix oats, nuts, and brown sugar mixture.
Mix thoroughly.
Spread onto cookie sheets and bake 45 minutes-1 hour until golden brown.
When granola has cooled completely, add fruits if you wish and store in airtight container.