Saturn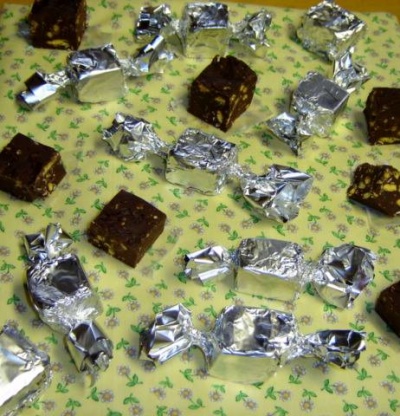 I wanted something fudge-y. But I wasn't in the mood for plain fudge. I don't like nuts in my fudge so I got inventive. The way they are wrapped in my photo was my 6 y.o. son's idea. I think these would be great on a platter with a whole bunch of other cookies for Christmas or something like that.

Loved this! I halved it (because I only had 1 1/2 cups of chocolate chips) and used fat free sweetened condensed milk. I froze some of these in snack bags for lunchbox treats. These are chocolatey and have some nice crunch to them. Great fudge! Updated to add that I froze them in snack size bags and they made a great lunchbox addition!
Line an 8" pan with waxed paper.
In a double boiler, melt chocolate chips, condensed milk, cocoa and peanut butter.
While that is coming together, gather up the remaining ingredients.
When the chocolate mixture becomes all creamy and blended together, remove from heat and quickly mix in the vanilla, chow mein noodles and oats.
Dump into pan. With slightly damp fingers, press the fudge out to the edges.
Place in the fridge to chill for about 1 1/2 - 2 hours.
Cut into small squares.
Keep covered as it will dry out.