Latchy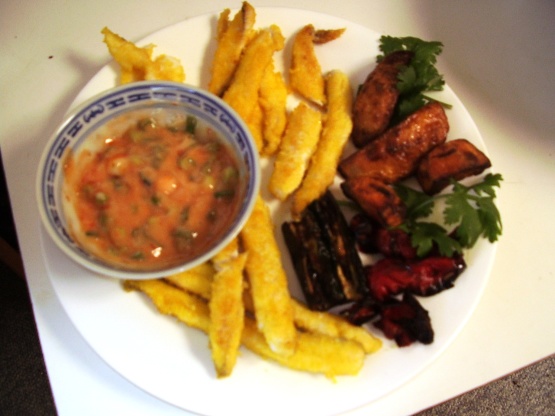 A simple quick fish dish with a nice dressing.

Latchy this is yummy. I had it all ready for Dave to cook and we cooked it on the BBQ. For a start we were concerned that the cornmeal was very dry but it turned out great. It really held the moisture in the fish and gave the outside such a crunchy texture. Amber absolutely loved it. The sweet chilli mayo is perfect with the fish. Definitely make again :)
Put cornmeal on a sheet of greaseproof paper.
Cut diagonal; slashes in skin of fish fillets.
Press fillets in cornmeal to coat thoroughly.
Heat oil in pan, add the coated fish.
Cook over medium heat for 3 minutes each side or until cooked.
Drain on paper towels.
Combine mayonnaise, chives and chili sauce.
Serve with fish.