PetsRus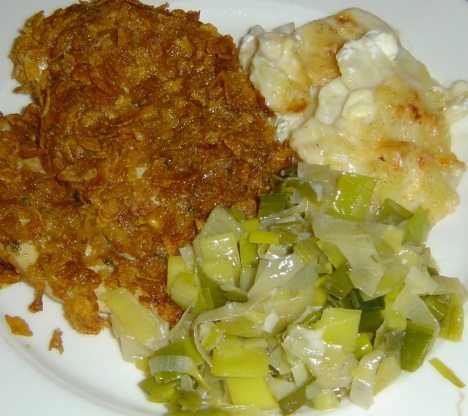 Nice served with a salad and oven-baked potato wedges. Adjust the amount of curry powder to your own liking. Cooking time will depend on the thickness of the breasts.

I thought this was really good, but my girlfriend didn't like a certain spice in it. Probably the curry. I didn't use parchment paper- used wax paper instead (and sprayed some cooking spray) and some of the coating did come off from the bottom portion, but not too bad (and I know its because I didn't follow the directions completely) Thank you for a good recipe, Pets! And Congratulations for being my first review as a Recipezaar member! Yeah! :)
Preheat oven to 375°F.
Flatten the chicken breast between two sheets of plastic or parchment paper.
Mix the mayonnaise with the garlic, curry powder, chives and salt.
With a knife, spread a layer of this mixture on one side of the chicken, press into the cornflakes, now spread the mixture on the side which is up, and press that in the cornflakes (use a spatula or your hands (messy) for pressing down).
Repeat with the rest of the chicken.
Put on a baking tray lined with parchment paper and bake for 20-25 minutes, do not turn over, until done and lightly browned.