Crunchy Crust Peach Cobbler
Ceezie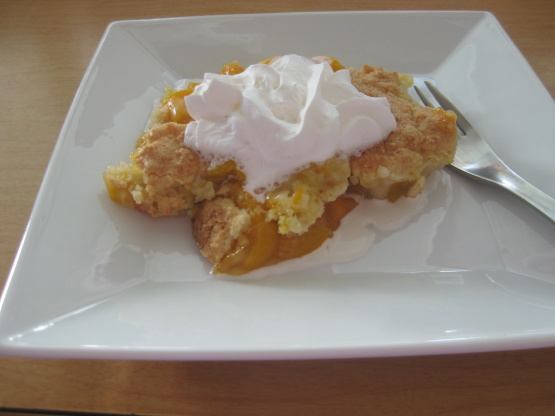 I was looking for peach cobbler recipe that was a bit different and found this one at TOH. Dh ended up making this so that speaks to the ease of the recipe. This would be easy to substitute other fruit for peaches and I personally would increase the fruit filling but it was good as written as well. This makes for a nice cobbler with a crunchy crust with a light meringue flavor.
Combine peaches (drained), cornstarch or clear jel and sugar; place in a greased 13-in. x 9-in. baking dish.
For crust, combine flour, egg yolks, butter, baking powder and sugar in a bowl. Gently fold in stiff egg whites - this is a kind of a crumbly dough. Drop and then spread over peaches.
Bake at 375° for about 45 minutes or until the fruit is bubbling around edges and top is golden. Serve with whipped topping or a dusting of powdered sugar.