teresas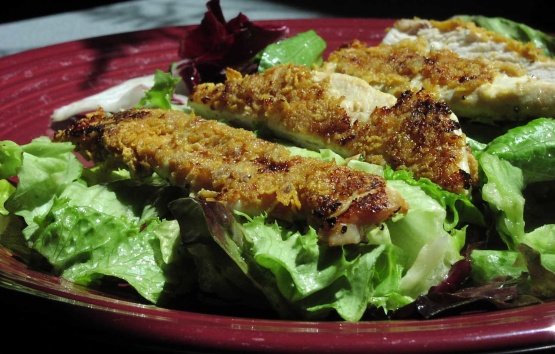 This recipe is from the Kosher Palette. It's really healthy and comes out delicious every time! An eye-catching way to present this dish is to toss the romaine with the dressing and place in the center of a large serving plate. Slice the chicken into 1-inch strips and place in the center of the greens and sprinkle with croûtons. Decorate the rim with halved or quartered yellow and red cherry tomatoes.

This is excellent! I also cut the recipe down to serve 2 and used only 1 chicken breast. Next time I plan to slice the chicken first. I think this would help crisp them up even more. I used store bought mixed greens and the Worcestershire sauce instead of the steak sauce. The dressing is shockingly good! Overall a wonderful dish. We enjoyed it for lunch. :) Thanks for posting.
Preheat oven to 400 degrees.
Combine mustard and mayonnaise in a small bowl; set aside.
Place chicken between 2 sheets of heavy-duty plastic wrap and flatten to an even thickness using a mean mallet. Sprinkle with salt and pepper, brush with mustard mixture.
Cover chicken with corn flakes and place on a lightly greased baking sheet. Drizzle each piece of chicken with 1/2 tsp oil.
Bake for 5-10 minutes on each side or until chicken is done. Cut chicken into strips.
Caesar Dressing: Mash garlic in a wooden salad bowl with a spoon. Cut lemon in half and squeeze juice into bowl, mixing with garlic.
Whisk in olive oil. Add broth, mustard, steak sauce, and pepper; whisk until well blended.
Combine chicken, lettuce, and dressing in a large bowl, tossing well.