ImPat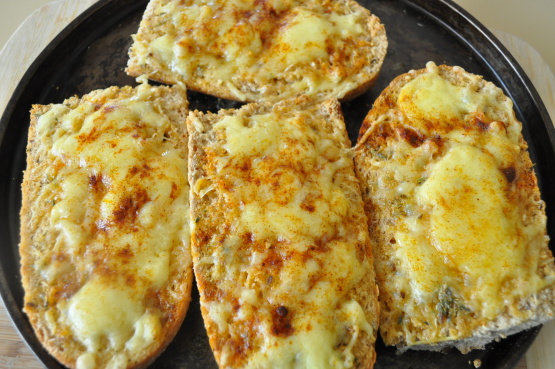 This is an easy Taste of Home recipe that my family really likes. I love the zing from the cayenne and will sometimes use pepper jack cheese if I want a little more heat. I like to serve this with a bowl of soup.

Top Review by ImPat
Made this for the DM and myself for lumch (I had a side salad with mine) and we both enjpyed. We don't get Mexican Blend Cheese so I used a vintage cheddar and sprinkled with hot paprika and some cayene peppe. Made for a very nice lunch thank you, Made for Make My Recipe.
Slice the bread about 1/2" thick and place on an ungreased baking sheet.
Combine the oil, thyme and cayenne in a bowl; whisk to blend and brush on the bread slices.
Sprinkle with cheese and bake at 300 degrees until the bread is golden brown and the cheese is melted and bubbly.
Serve immediately.