Crunchy Cheese and Herb Pull-apart Bread
Hey Jude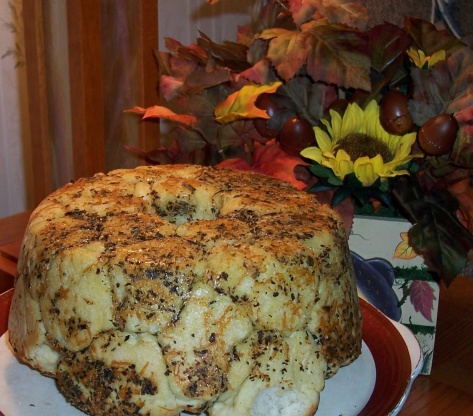 Yummy pull-apart bread that was part of a county fair baking competition. It is baked in an angel pan and is delicious sliced and toasted. Slice it thin and use it for sandwiches. I make a double batch and slice it and freeze it with 2 slices to a baggie. Then take it out and thaw it and toast it. It won't stay in our house.

Top Review by j_slo
it is the first time i have made bread from scratch and it turned excellent and really easy to make - i used fast rising yeast which i mixed in with the dry ingrediants (5 1/2 cups flour), and then combined with the wet. Since i was serving with chili i changed up the the coating to just over 3/4 cup parmesan(mix of grated fresh and shaker parmesan), 3 1/2 tsp garlic powder, and 3 small green onions finely chopped. One minor problem i had was the top layer of balls fell off when i turned out of the pan not sure why, maybe i had too much air space? didn't matter as i just arranged on top like it was supposed to be that way, haha. Received lots of complements, will be making again! thanks for the great recipe.
In a large bowl, combine water, sugar, yeast, oil and l cup of flour.
Let stand 5 minute until yeast if frothy.
Stir in salt and rest of flour, 1/2 cup at a time until mixture begins to pull away from the bowl sides.
Turn onto a floured surface and knead 5-8 minutes (or 100 times), adding a little flour when needed so dough won't stick to the counter.
Place dough in a well-oiled bowl, turning to coat all sides.
Cover and let rise till double.
Combine seasoning in a small bowl.
Put olive oil in another small bowl.
When dough has risen, punch down.
Spray an angel pan with non-stick vegetable spray.
Cut or pull off dough about the size of a large walnut.
Roll pieces into a ball and dip in the olive oil.
Roll in seasoning mixture.
Place side by side in pan, making layers as needed.
Set aside and allow to rise till dough reaches the top of the pan.
Preheat oven to 400 degrees while the loaf is rising.
When risen, bake for approximately 35-45 minute or till top is golden.
Turn out on a cooling rack.
Makes one loaf the size of an angel pan.
Slice and toast if desired with butter.