loof751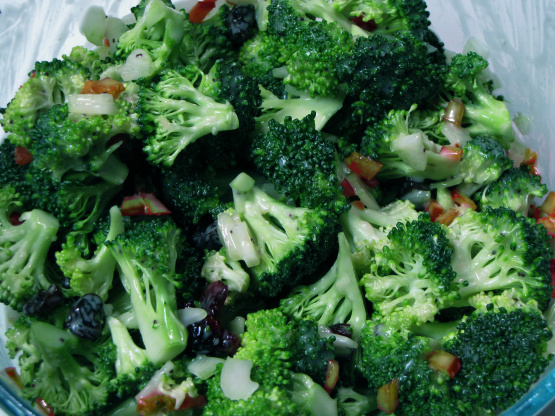 My variation of standby. Use different dressing for completely new taste.

Although your servings are very small compared to what we usually put on the table, that's really not as important as the taste of the salad, & that, we enjoyed! The 2 of us had enough for two meals, & we loved the raisins & cranberries in it! The only change I made was to steam the broccoli just enough to soften it up slightly! I like it raw, but my other half prefers it a little less so! Healthy & crunchy, that's for me! Thanks for sharing it! [Made & reviewed for one of my adoptees in this fall's round of Pick A Chef]
Chop broccoli into 1/2-3/4" pieces.
Finely dice Celery & Red Onion.
Shred Carrot.
Combine all dry ingredients in bowl.
Whisk Yogurt/OJ/Mayo in small bowl pour over dry mixture, toss to coat.