vrvrvr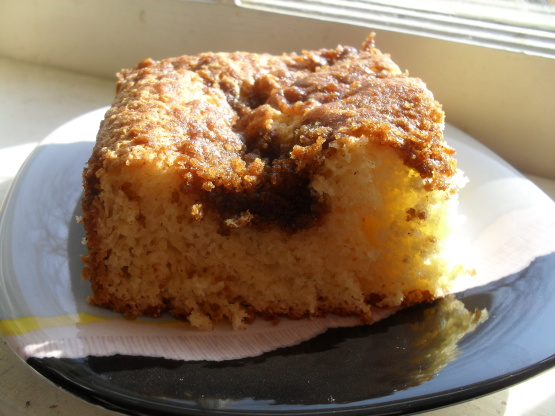 This is very yummy, either for breakfast or for an after dinner dessert. The topping is crunchy and the cake is soft and fluffy. What more could you want from a cake?! It came from a Klutz cookbook.

I printed this recipe five years ago and was just flipping through my cook book before a friend came over for coffee and decided to give it a try. I wish I hadn't waited! It was very flavorful and moist and was a hit with the kids too. I didn't have a 9x9 pan, so I used a pie pan. I also added some vanilla (coffee cake just seemed like it should have vanilla) and it turned out wonderfully. Great recipe!
Mix the dry topping ingredients together.
Then chop the butter into little pieces and mash into mixture with a fork or your hands until crumbly.
Mix the dry cake ingredients together.
In a seperate bowl beat the eggs and sour cream.
Add the egg mixture to the dry ingredients and mix.
Pour evenly into a greased 9x9 inch pan and sprinkle the topping evenly over the cake batter.
Bake at 350F for 35-40 minutes or until toothpick test comes out clean.