Bergy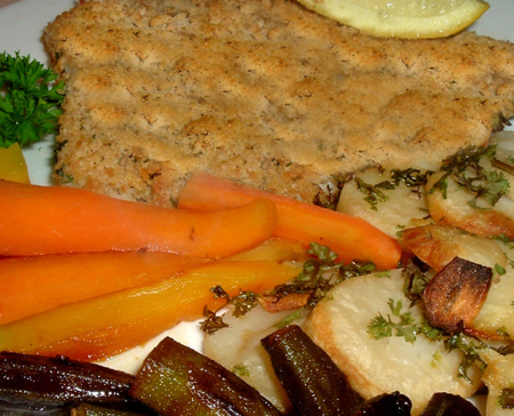 I'm a real fan of Tilapia with so many ways to fix it. Here's another. Delicious! Excellent for those who do not like fish, but need the Omegas.

This was a very good recipe. The only reason I did not give it five stars was I thought the parsley was overpowering and it could have used a little less italian seasoning. Outside of that, it was really good. I did follow other cooks suggestions and used Panko bread crumbs instead of saltines. Missing the salt from the saltines, I should have added in a pinch of kosher, but lessons learned. I also used asiago, and I think next time I would use parmesan. The asiago was a little strong. (See the theme of slightly over powering the subtle Tilapia flavor? - not by much though) I also would suggest using cooling racks to back the fish on. Put the cooling racks inside the baking pan (both coated of course) and the fish on the cooling rack. This give both sides of the fihs the crunch you want. Thanks for the recipe!! This is an excellent base with lots of room to play with variations. It will be a staple in with my family.
Preheat oven to 400°F
Melt butter in shallow pie dish; set aside.
In another shallow dish, mix cracker crumbs, seasoning and spices.
Dry fillets and dredge in butter; then, in crumb-seasonings mixture.
Place on oil-sprayed foil-lined baking sheet and distribute remaining crumbs on tops of fillets.
Drizzle remaining melted butter over crumbs.
Sprinkle each with grated cheese.
Bake for 15-20 minutes, until fish flakes easily and topping is golden.
Serve with Chili SauceII-Recipe #7161, if desired.
Enjoy!