Crunchy Baked "fried" Chicken
VickyJ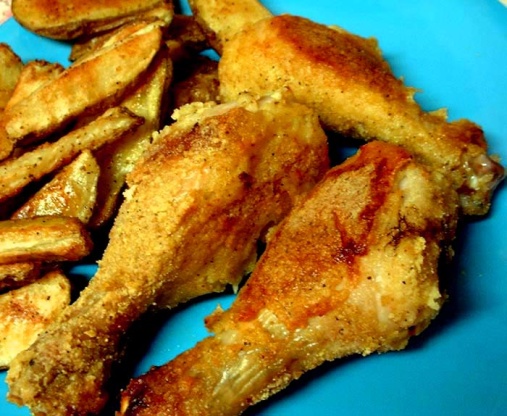 Crunchy crispy chicken you would swear had been pan fried!

Well, I wouldn't swear they were fried, but they sure did taste good! I actually only had some cornbread mix on hand, so I used that instead of cornmeal and flour separately. I added a little bit of garlic to the coating. It was pretty crispy on top, but the bottom got kind of soggy...maybe you could stand to cut down on the amount of butter you drizzle, cause it seemed like a lot of it just kind of pooled up in the bottom of my pan. But otherwise, this was terrific, and really easy!
Combine first 5 ingredients.
Dip chicken pieces in milk.
Then roll in cornmeal mixture.
Place in a well greased 13x9 pan.
Drizzle the butter over chicken.
Bake uncovered in a preheated 375 degree oven for 50- 55 minutes.
Note: I think chicken (fried or baked) tastes better if soaked for at least 4 hours in salt water.
I use seasoned salt- about 3 Tbls.
in a bowl of water big enough to hold chicken.
Be sure to dry the chicken before using.