Crunchy Asian Salad With Shrimp and Scallops
Mulligan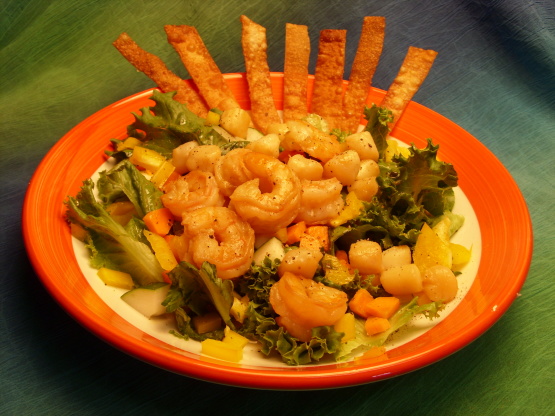 A local restaurant serves a salad similar to this and after a lot of experimenting I came up with a pretty good imitation. I stop on the way home from work at the local Chinese restaurant to pick up the fried wonton strips. Don't let the number of ingredients scare you off as it assembles quickly and easily. You can make the dressing ahead of time and store in the refrigerator.
Combine shrimp and scallops with 2 teaspoons soy sauce and set aside.
Combine all dressing ingredients in jar and shake well.
Divide wonton strips into two portions and place in bottom of of two serving bowls.
Heat non stick skillet on medium high heat. Add 1 teaspoon olive oil or can omit and spray with Pam. Place marinated scallops and shrimp in hot pan and sear until done (this should only be a very short time until shrimp are pink-do NOT overcook). Turn off heat.
Toss spring mix and cabbage with dressing. Place on top of wonton strips.
Top salad mix with cooked shrimp and scallops.