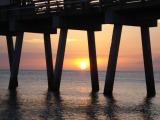 A healthy snack or breakfast for kids and adults!
Make and share this Crunchy Apple Rings recipe from Food.com.
Ingredients
Nutrition
3

tablespoons peanut butter
1⁄2 cup Honey Bunches of Oats cereal (or your choice of cereal)
Directions
Wash apple. With a knife or apple corer, remove the core of the apple.
Slice into rings about 1/4 inch thick so that the apple has a hole in the middle.
Spread smooth or crunch peanut butter on one side of each apple ring.
Place on plate and sprinkle with Honey bunches of oats cereal, or any cereal of your choice.
Enjoy!