mrtippit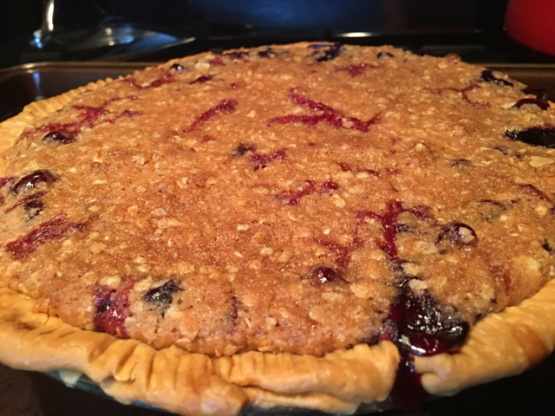 Assorted berries baked in a pie shell with a crumble topping. My husband requested it so I combined the best berry pie recipes with the best berry crisp recipes, and got the best of both worlds! I used a frozen medley of blueberries, raspberries, and lingonberries that I got from Costco.

So good and easy to do! I added about 1/2-1 tbsp of tapioca as my thawed berries were very juicy. I will definitely be making this again as it combines two of my favourite desserts: berry crumble and bumbleberry pie!
Preheat oven to 375.
Mix topping ingredients together, stirring in the melted butter last, and set aside.
Cook all the filling ingredients EXCEPT the berries on medium, whisking frequently, until it is well blended and thick (5-7 minutes).
Remove filling from heat and stir in berries.
Pour filling into pie crust (don't poke the crust with a fork).
Crumble topping over filling, completely covering it (no berries showing through).
Place pie on a cookie sheet and bake on middle rack of oven for 45 minutes or until done.
Let cool for at least 10 minutes, and serve. Optionally, top with whipped cream or vanilla ice cream.