Crumbed Chicken & Roast Sweet Potato Salad
ImPat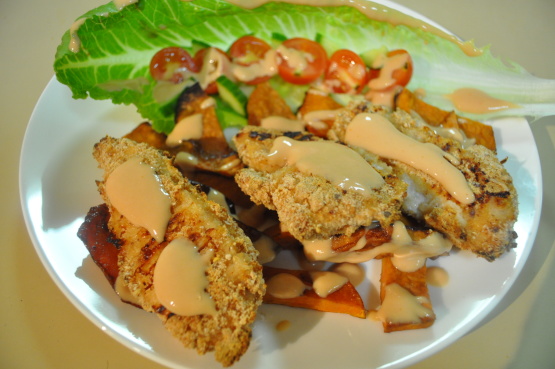 This is from delicious magazine and yes it is delicious!!!

Top Review by ImPat
As this dish is over 3 components I am doing the review as such. firstly the sweet potato salad, perfect the taste of the sweet potatoes was absolutely perfect, secondly the dressing also 5 stars (still have some left over will go perfect with the chicken in sandwiches) and thirdly the chicken now we ran into a little trouble it was not browning but after 35 minutes I felt it was going to be too dry so sprayed with a little oil and cranked up the oven for 5 minutes and got a light tinge, still well rather pale looking but when I turned the chicken the other side which had been on the baking paper was beautiful and brown (served this side up on the plate of sliced potato drizzle with the dressing along with cos leaf (wishing I had baby leaves) some cherry tomatoes and cucumber with a drizzle of the dressing. Overall a very satisfying meal, thank you **Mandy**, made for Went to Market.
Preheat oven to 220,C. Line a baking sheet with baking paper.
To make the sweet potato salad, combine the oil, vinegar & brown sugar in a bowl, add sweet potato & toss to coat. Transfer to a shallow baking tray & roast for 25 mins or until soft & starting to brown, remove from oven & leave for 10 mins to cool.
Meanwhile combine yoghurt with a little milk to thin it. Combine breadcrumbs & paprika and season with pepper. Dip the chicken into the yoghurt, allow the excess to drain off, then coat in the breadcrumb mixture.
Place chicken on prepared baking sheet and bake for 20 mins or until golden brown & cooked through, slice into strips.
To make dressing:Combine all ingredients.
To serve: Arrange salad leaves on a plate, top with some sweet potato & chicken & drizzle with dressing, sprinkle with basil to serve.