CoffeeB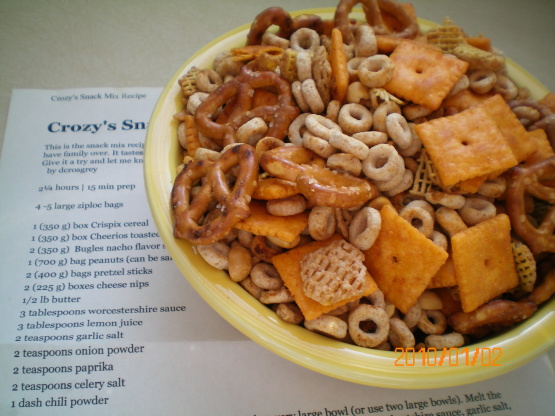 This is the snack mix recipe that I have used for many years for holidays and other occasions where we have family over. It tastes amazing and is way better than the store bought alternatives, in my opinion. Give it a try and let me know what you think. :)

Wow, this took a lot of time, but it is worth it, for sure. Much better than store bought, yup! I didn't have the full amount of bugles and only had roasted almonds, which was a bit pricier than I wanted to go with taking it to the scouts tonight, but eh, ya only live once, I guess. Used a little less butter to make up for the lesser ingredients. Thanks so much!
1

(350 g) box Crispix cereal

1

(350 g) box Cheerios toasted oat cereal

2

(350 g) Bugles nacho flavor snacks

1

(700 g) bag peanuts (can be salted or dry roasted)

2

(400 g) bags pretzel sticks

2

(225 g) boxes cheese nips
1⁄2 lb butter

3

tablespoons Worcestershire sauce

3

tablespoons lemon juice

2

teaspoons garlic salt

2

teaspoons onion powder

2

teaspoons paprika

2

teaspoons celery salt

1

dash chili powder
Combine all the mix ingredients together in a very large bowl (or use two large bowls). Melt the butter in a glass bowl in the microwave and add the lemon juice, worchestshire sauce, garlic salt, onion powder, paprika, celery salt, and chili powder once you take it out of the of the microwave. Wisk them all together really well. Pour some of the sauce all over the mix and toss them with your hands until well coated. Keep repeating until all the sauce is mixed with the dry ingredients.
Put the mixture in two large baking trays/pans and bake in the oven for about 2 hours at 200 degrees F. You will have to stire them frequently so that they bake evenly.
Once the snack mix is cooked, let it cool completely and then bag them up. This will make about 4-5 large ziploc bags full.
Enjoy.