CarolAT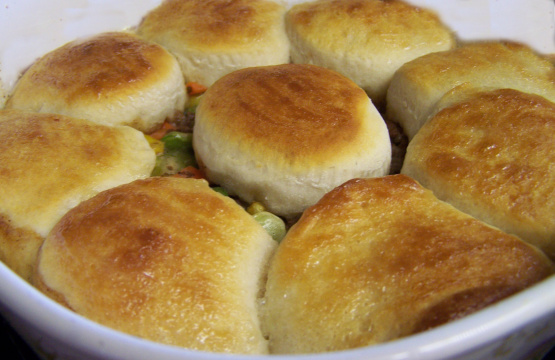 My mother used to make this when I was growing up. My siblings and I thought it was the best thing in the world when she made it

This is an all time favorite at my house. I make it a little differently though and never thought about baking biscuits on top. Thank for the novel idea. I usually use a can of VegAll mixed vegetables and a jar of either beef or chicken gravy and I add about a teaspoon of dill weed. The dill is a perfect herb with beef. It adds just a bit of tartness to the dish. Thanks for posting.
Preheat oven to 425°F.
Brown beef in skillet over medium heat, stirring frequently; drain fat.
Add next 6 ingredients.
Bring to boil.
Remove from heat, stir in mayo.
Place mixture in casserole dish.
Flatten biscuits slightly and arrange overlapping around the edge of casserole.
Brush biscuits with additional mayo.
Put in oven and bake for 15 minutes or until heated and biscuits are browned.