Croutons With Chevre and Red Peppers
BarbryT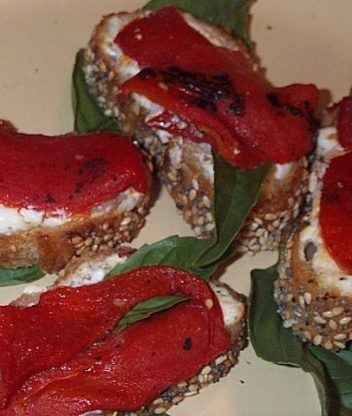 From Goodies to Go. Great served with Tomato Bisque.Servings and cook time is an estimate.

These are very good basic crostini -- for my taste though they need something more. The roasted peppers are quite sweet and the chevre rather bland--a good dose of herbs, some crunchy salt and cracked pepper or a bit of anchovy or oil cured olives really make these much better.
Cut a baguette into 1/4-inch slices. Brush the slices lightly with olive oil and bake at 350F for 10 minutes, or until they are light brown.
Beat/mix the chevre and its marinade until the mixture is creamy.
Spread a thin layer of cheese on each crouton and top with a strip of roasted and peeled sweet red pepper. Place the croutons under the broiler until bubbly.
Serve at once.