ImPat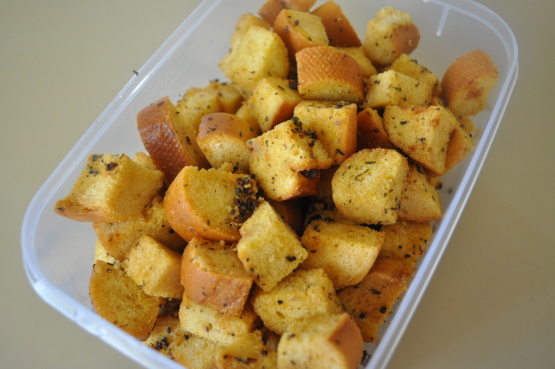 My husband thought these were a snack I made for him to munch on while he watched TV, they were gone so quick I didn't have time to put them on a salad or a bowl of soup! These would also be great if you sliced the bread, you would need to adjust the baking time.

Found some old stale San Francisco Sourdough in the back of the freezer. Didn't have enough bread, burned the croutons a little, long before they were supposed to be done, ate most of them myself because I just couldn't through them away, and then, a Miracle! One of the pickiest eaters in the world said, "can we try those croutons?" I am about to make attempt number 2, but will change nothing but oven temperature. I assume even though you say stale, you are not talking about cutting the bread up and forgetting about it for a week.
Preheat oven to 200.
Place cubed bread in big mixing bowl.
Melt butter in small sauce pan. Add olive oil, stir, remove from heat.
Add in all the spices, salt and pepper.
Drizzle half over bread, toss to coat. Add second half to desired amout of flavor(for stronger flavor add all, for light flavor only use half), toss again to coat well.
Spread evenly in single layer on an ungreased cookie sheet.
Bake for a about 2 hours to get all the moisture out.
Turn oven up to 300 let cook for 15 minute and mix them up and cook for about 15 min longer or until nice and toasted. Cool on paper towel then store in an airtight container.