Crostini With Warm Goat Cheese and Balsamic Figs
ssinger1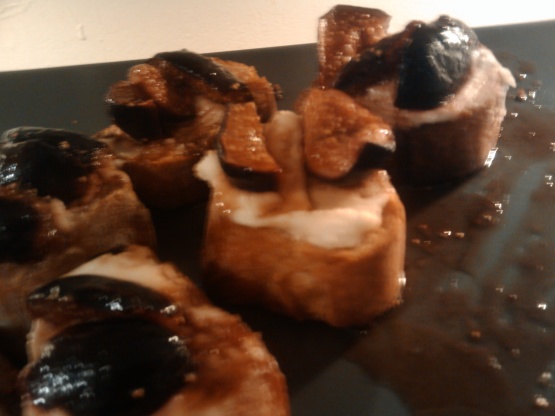 These are very easy to make and are absolutely delicious. The ingredients are estimates since it really depends on how large your crostini are. Feel free to make your own crostini by cutting french bread into thin slices and toasting them in the oven. Prep time does not include the soak time for the figs. Another option for serving, is to take the soaked figs and blend in a mini food processor, then spread on the goat cheese before baking.

Wow - this was a taste treat!! I had dried Calimyrna figs which needed to be used up. They were dried so hard that I had to stab them with a fork all over and soak them whole in the balsamic overnight. The next day I cut them up into small pieces. The balsamic vinegar I used was not very aged and was still more vinegary than sweet so I did end up adding a tsp of honey to the mix. That was exactly how I imagine the recipe is supposed to taste. I toasted some English muffins spread with cream cheese and served this with hot tea for breakfast. Wonderful meal that was enjoyed by all! Thanks for a keeper recipe.
16

plain crostini (home made or store bought)

6 -8

ounces chevre goat cheese

12

dried figs
1⁄2-1 cup balsamic vinegar (enough to cover the figs so that they can soak)
Chop figs into 1/4 inch pieces and soak in balsamic vinegar, over night.
When ready, preheat oven to 350 degrees F. Spread goat cheese onto the crostini, and top with a spoonful of the chopped balsamic figs. Bake for approximately 10 minutes.
Remove from oven, and drizzle with a few drops of the remaining balsamic vinegar. Serve.